How to Choose the Right Curtain Rod?
Curtain rods are some of the most significant parts of your home's interior decor, but do you know how to choose the right curtain rod or do you just prefer curtain tracks?
Curtain rods are not only functional accessories but also act as decorative accessories, that's why you should ensure that you make the right decision the first time. Choosing the perfect curtain rod for your living room's window treatment can go a long way to making your home feel even more inviting.
Curtains and curtain rods are some of the most important things that you should ensure you get right, when you are designing your living room since there is a greater chance that they will act as your living room's focal point. According to some of the best interior designers in the world, curtain rods provide you with the perfect opportunity to add some interesting details into your space. However, when it comes to choosing the best curtain rods quality and design should always be your key considerations.
Follow the following points, you can easily choose a set of suitable curtain rod:
1. Figure out how much weight your curtain rods will be supporting.
2. What size in terms of diameter and length do you need your curtain rod to be?
3. Choose the curtain rod material you prefer.
4. Selecting the curtain rod style that pleases you.
5. What color curtain rods do you prefer?
Tips on how to choose the right curtain rod
The selection process of the perfect curtain rod is very simple, all you need to do is just follow the following steps and you will end up with a curtain rod that fits your style and serves your need.
Before selecting a curtain rod it's essential to ensure that it can hold the weight that you intend to through at it. If you intend to use heavier curtains such as the thermal curtains or the blackout curtains, you should ensure that the curtain rod you pick can hold the weight.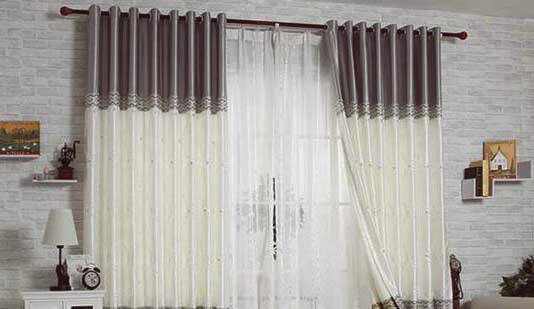 The best way of doing that is by measuring the weight of the curtains and then dividing the weight by the length of your preferred curtain rod. This gives you the approximate weight that each foot of the curtain rod is expected to support.
All curtain rods are measured by their diameter which stands for the width of the curtain rod's pole cross-section. Regular curtain rods have a diameter ranging, the size you choose mainly depends on the weight of the curtains you intend to use. Since the larger the diameter the more weight the curtain rod can hold and vice versa. Knowing the actual diameter of your curtain rods is quite important, for several reasons. One of which is that it helps check whether the curtain's heading will fit on to the curtain rod. The second reason is that in a situation where you have curtain rod and the curtain rod brackets are sold separately, you will be able to pick the right curtain rod bracket.

Diameter and length of curtain rod

Curtain rods comes in different length, since windows are always in different sizes. In fact here are some length sizes of your standard curtain rod.
28 inches to 48 inches
48 inches to 84 inches
66 inches to 120 inches
120 inches to 170 inches
Some of these rods have a minimum and a maximum length which means that they are extendable. For example a curtain rod with the length of 66 inches to 120 inches can stretch from 66 inches up to 120 inches, which means that the curtain rod can be adjusted to fit any window within that range.
The smaller 28 inch to 48 inch are mainly used for smaller windows such as the bathroom windows, while the long and extra-long sizes are used on large and larger windows respectively.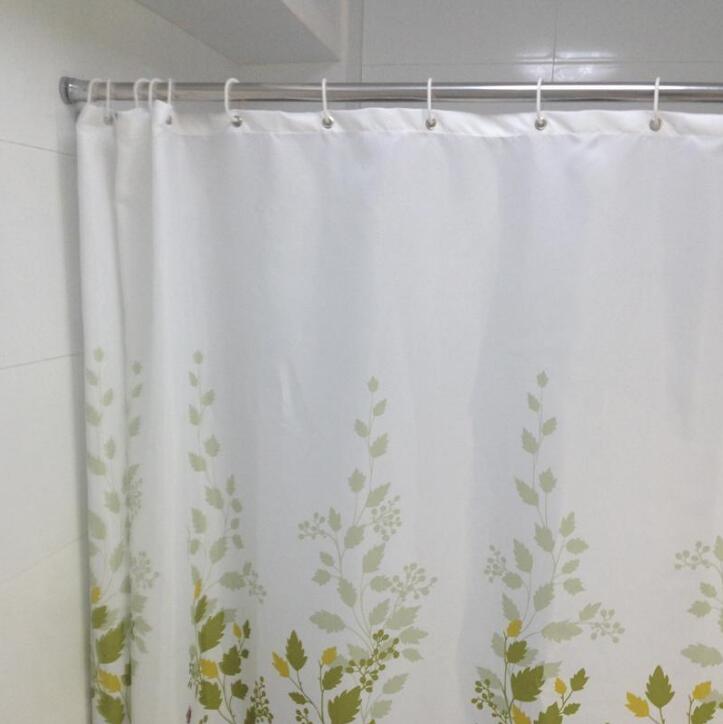 Spring curtain rod in bathroom

To know for sure the curtain rod size you need you should first measure your windows size, and then decide whether you want your curtains to only cover the window openings. If you intend your room to look bigger and brighter you should get yourself curtain rods that are 5 inches longer that the window's frame on either sides. Extending your curtain rods on either sides of the window frame, will give you a breezier look and an illusion of wider windows.
Curtain rods come in endless styles and designs, however they can only be made out of there materials which are either wooden, metallic. Each of which has its own advantages and disadvantages.
Metallic curtain rod
Metallic curtain rod has a wide market in the world, iron, aluminum alloy is a very common material. The following are the advantages and disadvantages of metal curtain rod.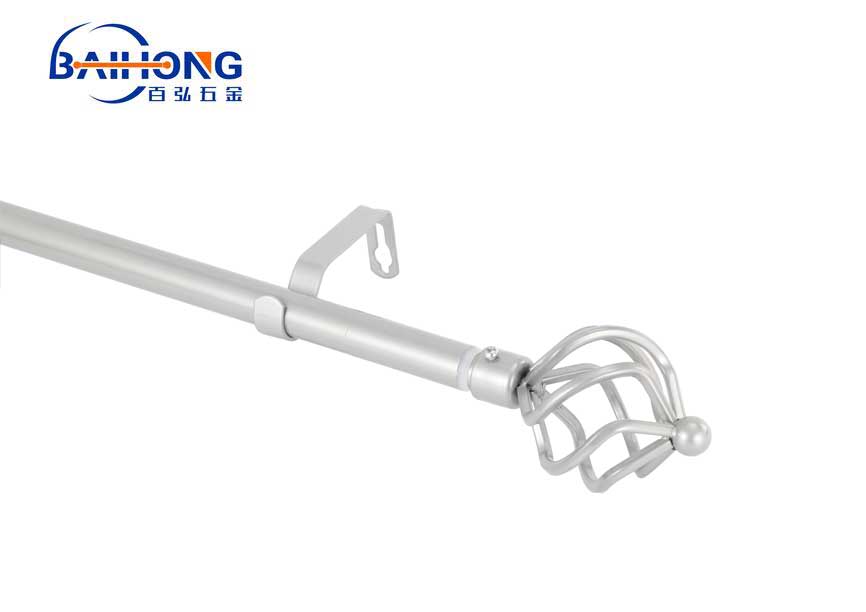 Metallic curtain rod
Advantages of a metallic curtain rod
With a metallic curtain rod you have the choice of a variety of dramatic color options.
Strength and durability. Metallic curtain rods are strong, and have the capability to hold more weight.
Metallic curtains such as gold-toned curtain rods can be used to complement traditional interior decors.
Disadvantages of a metallic curtain rod
Metallic curtain rods may rust in damp weather and will require regular refinishing.
Wooden Curtain rod
In addition to metal, wood is also a common material used in curtain poles. Similarly, the wooden curtain rod also has advantages and disadvantages.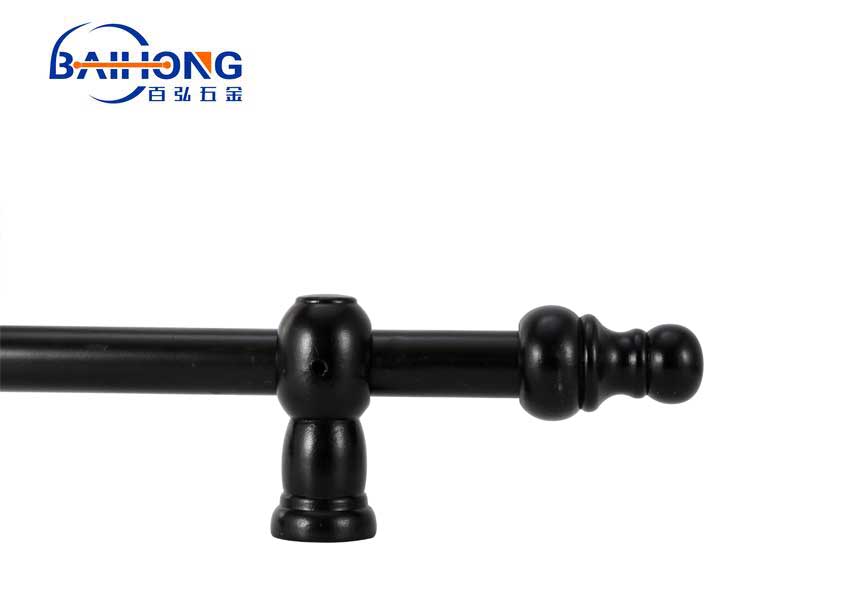 Wooden Curtain rod

Advantages of a wooden curtain rod.
Wooden curtain rods provide a more natural look.
Wooden curtain rods are less expensive as compared to metallic curtain rods.
Wooden curtain rods can be pre finished in a large variety of paints and stains.
Disadvantages of a wooden curtain rod
They are not as strong and as durable as metallic curtain rods.
Out there in the markets there hundreds of curtain rod styles that you can choose from, depending on your taste. Here is a list of some of the most popular curtain rods:
Standard curtain rods: These are some of the most available and widely used curtain rods as they are ideal for holding up most type of curtains, plus their prices are pocket-friendly.
Return or wraparound rods: These rods usually take a U-shape as they are used to fully wrap windows on the edges.
Spring or tension rods: This design or style of curtain rods is mainly common in smaller windows that cannot fit or accommodate the standard rods. Tension rods are known to be adjustable, less expensive, and more durable as compared to other types of curtains.
Cable or Wire rods: These are the types of curtain rods that are used for lightweight curtains as they cannot bear the weight of the normal curtain, they are mainly known to be curved or angled.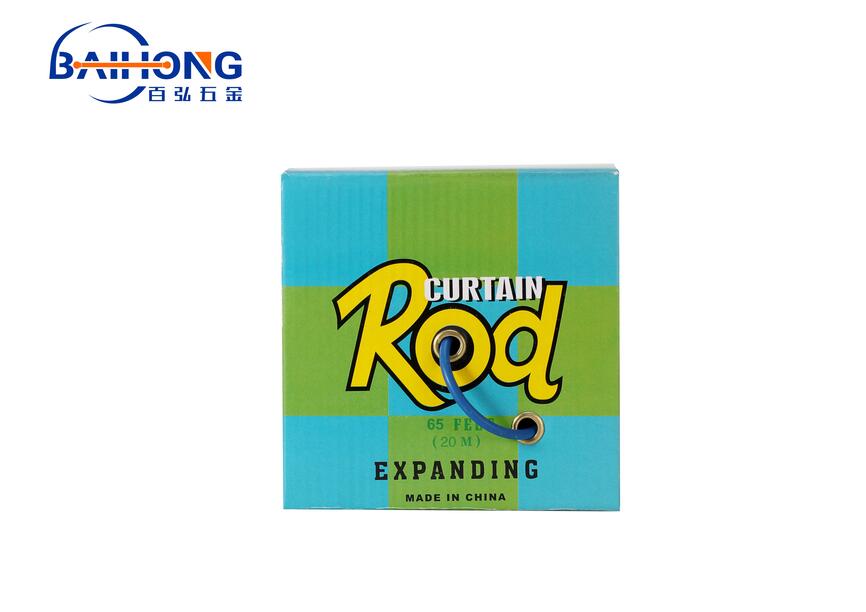 curtain wire

Deciding the right color for your curtain rods is one huge step that could last even more than the whole installation process, especially if you are a color enthusiast.
The color of rooms curtain rods usually depend on the style, look, and feel of your room. And in order to select the right color there are a few things you should consider such as:
Your room's finishes.
A room's finishes and texture are some of the most important things to consider when selecting the curtain rods' color. For example, a shiny silver curtain rod with a few crystal accents would not have a place in an eclectic boho bedroom, the same way a traditional wooden curtain rod with curved finishes would destroy the whole mood of a sleek modern living room.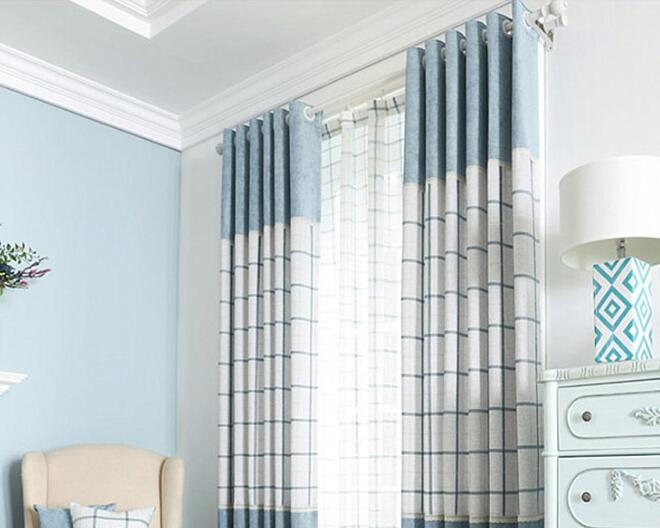 Get some inspiration from the furniture and any accent pieces in the room.
A professional designer will definitely inform you that the color of your curtain rods should coordinate with that of other accent pieces in the room. You can derive inspiration from things such as the ceiling beams, headboard, dresser, or accent chair in the room.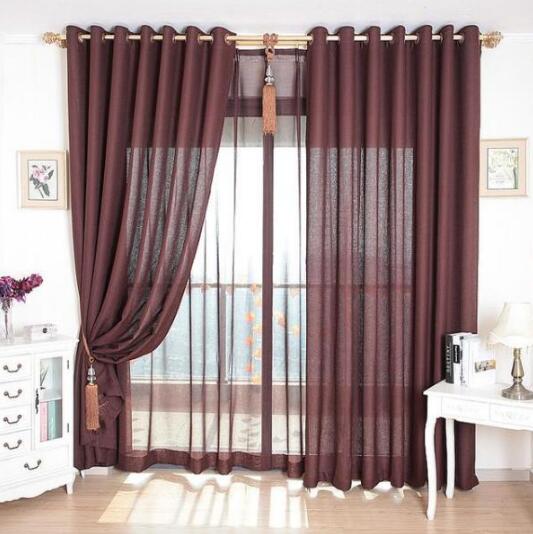 Here are a few great examples:
Brass curtain rods go great in a room with Gold accents and tones.
A white curtain rod will blend perfectly in a room that is mostly white or with a little contrast.
Stainless curtain rods match perfectly in a room with grey accents and metal light fixtures.
When selecting the color of your curtain rods always go with a color that will blend seamlessly with the rest of your decor.
Consider your preference and lifestyle.
Before selecting anything it's always good to first take into consideration your lifestyle and your preference. For example, if you're, are a stay-at-home mum or you work from the comfort of your home it's advisable to choose a curtain rods color that's easy on your eyes.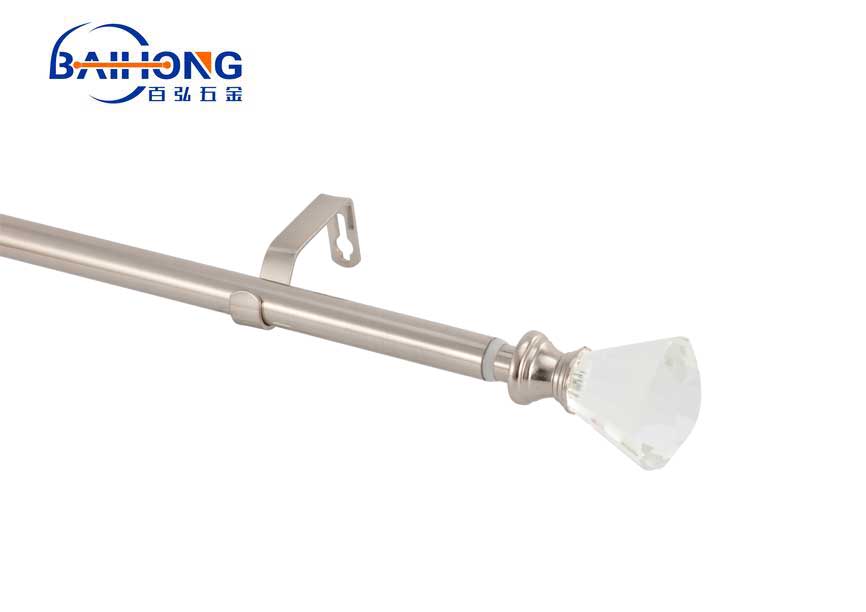 Consider the flow of the room.
When designing your own home with no help from a designer the flow of the room is one step that most people tend to get wrong. For example, in a scenario where the curtain rods are in two separate adjourning rooms and they are needed not to look the same, you should colors that will at least coordinate the two curtain rods.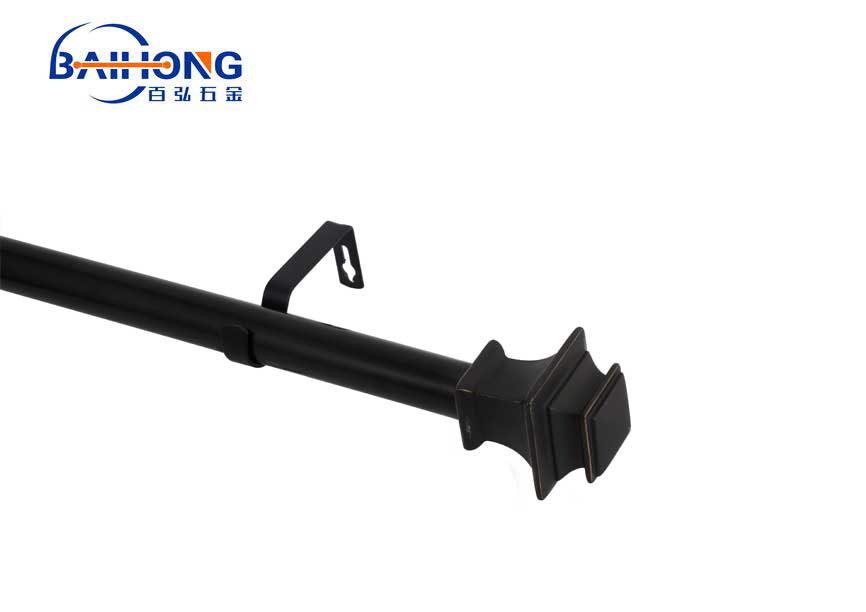 Choosing the perfect curtain rods has never become so simple and enjoyable, even though there are so many things that you should consider especially when buying curtain rods. With Baihong Hardware you can now get curtain rods that are solely designed to fit your needs, even when you have no idea of what type or style of curtain rods to choose from, our team of world class interior designers will help you pick curtain rods that will transform your home.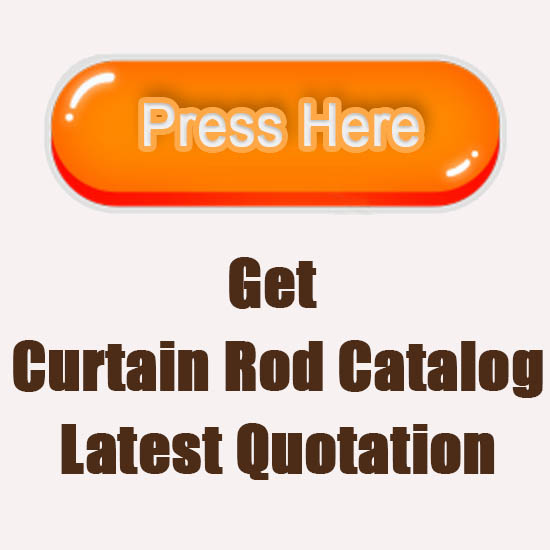 Shop from our large collection of curtain rods today. We have a large variety of colors and styles to choose, with us you will definitely find the perfect curtain rod for your set up.